Nobody wants to be in this situation, and nobody plans for it, but occasionally there comes a time when you need an emergency fuel delivery. Running out of heating oil not only disrupts your home and heating, but it can also result in boiler issues, all of which can cost you a lot of extra time and money.
When you have a heating oil emergency, you need a company that has the fuel you need available and that delivers on its promise to get you the heating oil you need.
That is where NWF Fuels comes in.
How can we help?
NWF Fuels offers an emergency heating oil delivery service that will deliver the urgent top-up you need straight to your tank, and all at a competitive price. Thanks to our network of depots, we have a robust supply chain and coverage nationwide, so we have the fuel, and can get your emergency fuel delivery to you wherever you are.
For an emergency fuel delivery now, give us a call at 01829 260900 or start your order online by clicking here.
Tips to avoid the need for emergency domestic oil delivery
Order well in advance – as strange as it sounds, order your heating oil during the summer. Doing this will help you save money on your deliveries (due to low demand) and will guarantee that your tank is topped up in plenty of time for the colder months.
Get a smart tank monitor – join our Priority Club, and we will provide you with a free smart tank monitor (worth £120), enabling you to monitor your usage and we will come and top up your tank automatically. You'll never run out again.
Choose NWF Fuels as your fuel supplier– we will offer you a professional and friendly service that meets and exceeds your expectations.
Get a Quote for an Emergency Fuel Delivery
We provide online quotes for emergency heating oil deliveries 24 hours a day, 7 days a week.
Need a quote for an emergency fuel delivery now? Call 01829 260900 or click here to use our online form.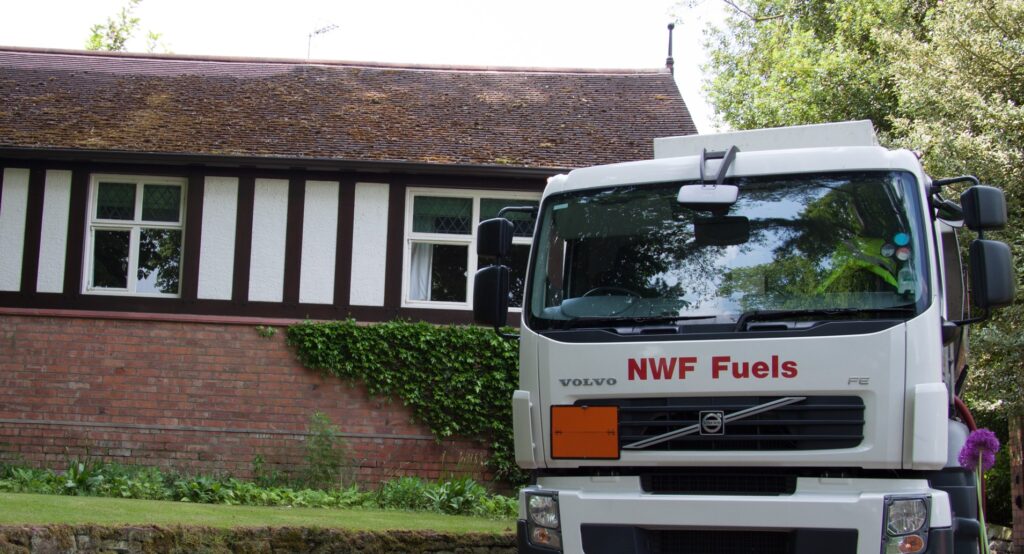 Our Commonly Asked Questions about Heating Oil
Where can I buy Kerosene?
NWF Fuels is a registered supplier of kerosene and other liquid fuels and lubricants, and we are able to deliver nationwide – get a quote today and speedy delivery for your home heating oil.
Who can buy heating oil?
Anyone can buy heating oil without a licence, but you may need to fill in in a RDCO (Registered Dealer in Controlled Oil) form depending on how much heating oil you order and how you intend to use it. In any case, make sure that you only buy your heating oil from an HMRC-registered supplier (which NWF Fuels is).
How much does heating oil cost?
As kerosene is a petroleum product, prices fluctuate daily in line with the price of crude oil. This can be based on world events, global supply, or a number of other factors which are out of our control.
For the most up-to-date prices for your heating oil delivery, give us a call on 01829 260900 or click here for an online quote.
To learn more about kerosene and its use as a fuel, click here.
How to Use Heating Oil Efficiently
We understand that you want to use your home heating oil efficiently so that you can get the most value possible out of your tank, so here are 5 free and low-cost tips to help make your home heating oil last longer:
Keep your radiators clear – if you cover your radiators with furniture or clothes, they won't be able to circulate warm air around the room.
Not all rooms are created equal – keep internal doors closed to conserve heat and adjust your radiators (around 20°C for living rooms and 16°C for bedrooms). If you don't have thermostatic radiator valves, these are a cheap way to control room temperature. Also, consider keeping the heating off in landings and hallways as people don't tend to spend much time in them.
Invest in draught excluders – making sure sources of draughts are sealed off is great for conserving heat.
Have your boiler serviced regularly by an OFTEC-certified technician – regular servicing ensures that the boiler is burning oil as efficiently as possible.
Consider a fuel additive to improve performance – Premier Fuel additives (such as our "Premier Pure") are an inexpensive way to improve boiler performance, improve fuel efficiency, and reduce maintenance issues, enabling you to get more value for money out of every tankful. Join our Priority Club, and we will include Premier Pure in your fuel deliveries at no extra charge.
What are the Different Types of Heating Oil?
Kerosene – also known as 28-second oil, paraffin, kero, home heating oil, heating oil, fuel oil, juice, C2 kerosene, burning oil, and others, standard kerosene is the standard grade of oil used in home heating applications. This meets the British Standard 2869, C2 Class, for fuel oil.
Premier Pure Kerosene – This more efficient, cleaner burning kerosene is achieved by mixing in an additive including anti-oxidants, dispersants, stabilisers, and detergents, which improve efficiency and shelf life and maintain the good health of your boiler, leading to fewer service issues. Join the NWF Fuels Priority Club, we provide Premier Pure and mix it into your tank when we deliver your home heating oil, at no extra charge.
Ultra35 – Ultra 35 is a specialist fuel replacement for red diesel and can be used in commercial heating and for agricultural applications. It provides the same heating performance at a reduced cost and is more environmentally friendly than gas oil.
Do you delivery emergency red diesel?
We can delivery red diesel, please visit the red diesel product page and get a quote.
Can you deliver emergency fuel quickly?
Our depot network means that we keep fuel stocks across the country, so we can get your emergency fuel delivery to you quickly and efficiently.
We offer next day deliveries – click here to get a quote, or give us a call at 01829 260900
Why choose NWF Fuels for your emergency fuel delivery?
National Coverage, Local Knowledge – we have depots across the country meaning that we can deliver to you, wherever you are.
Get a Person, not a Switchboard – When you need fuel in an emergency, we understand that you don't want to be spending your time passing through endless menus. You call us, you get us – it's that simple.
Personalised Service – Our service is friendly, professional, and one you can rely on whenever you need it.