Our vehicles: Tanker size guide
Welcome to NWF Fuels, your go-to resource for comprehensive information on the size and dimensions of fuel tankers. Are you curious about the various sizes of fuel tankers available or looking to understand the specifications of oil tanker dimensions? Look no further than NWF Fuels. Our Vehicles Tanker Size Guide is designed to provide you with all the essential details you need.
Whether you're involved in the transportation industry, interested in fuel logistics, or simply seeking knowledge about tanker sizes, this guide offers a comprehensive overview. We understand the importance of understanding the size of fuel tankers, as it directly impacts transportation efficiency and safety.
Within this guide, you'll find detailed information on oil tanker lengths, tanker heights, and the overall size of tankers commonly used in the industry. We aim to assist you in making informed decisions by offering insights into different oil tanker sizes and their applications. From small to large tankers, we cover the full spectrum of options available, ensuring you have a clear understanding of their capabilities.
At NWF Fuels, we are committed to providing reliable and accurate information about tanker dimensions to help you optimise your fuel logistics and ensure smooth operations.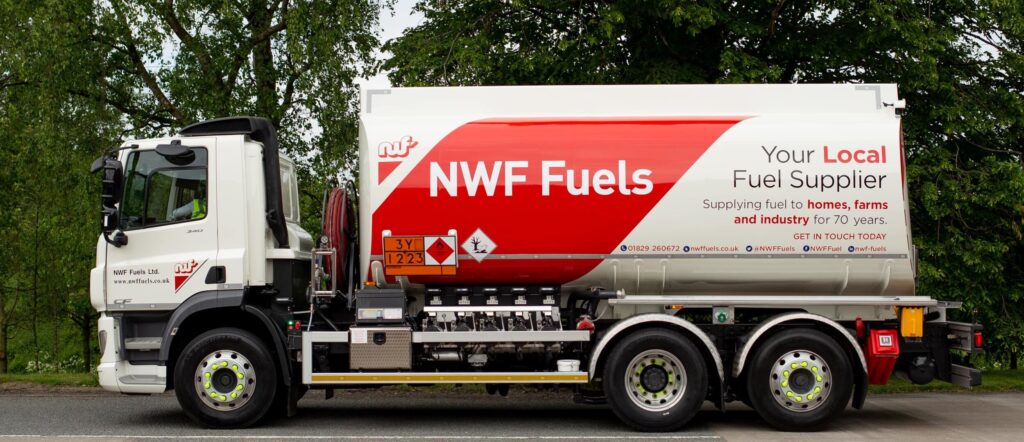 Check out our free quote below, where our customers can select a tanker size or talk to our team to discuss delivery requirements or anything else similar.
Six-wheel tanker specifications
| | |
| --- | --- |
| Make/model | DAF FAN 75 |
| Plated weight (kg) | 26,000 |
| Capacity, L (g) | 18,000 (3,950) |
| Configuration | 6×2 rear steer |
| Dimensions (L x W x H) (m)      | 8.84 x 2.56 x 3.5 |
Small tanker specifications
| | |
| --- | --- |
| Make/model | DAF LF55 |
| Plated weight (kg) | 18,000 |
| Capacity, L (g) | 12,500 (2,750) |
| Configuration | 4×2 |
| Dimensions (L x W x H) (m)      | 7.07 x 2.46 x 3.23 |
Why Choose Us?
At NWF Fuels, we understand that the size of tankers plays a crucial role in meeting your specific needs. Our extensive fleet offers a range of oil tanker sizes, ensuring that we can accommodate both small and large-scale requirements. From compact tankers designed for narrow access points to large vessels capable of transporting vast quantities of fuel, we have the right solution for you.
By choosing NWF Fuels, you benefit from our commitment to excellence in customer service, safety, and reliability. Our experienced team of professionals ensures that your fuel delivery is seamless, efficient, and tailored to your unique circumstances. We prioritise timely deliveries and adhere to the highest industry standards to provide you with peace of mind.
Whether you're seeking to transport oil regionally or nationally, our fleet of various oil tanker sizes enables us to handle any project, no matter the scale.
Contact us today to discuss your specific requirements and to learn more about how our diverse fleet of oil tanker sizes can meet your transportation needs.