A heating oil tank can provide a cost-effective way to heat your home.
Whether you need to move or replace an existing heating oil tank or you're planning to start heating your home using oil, it's important that your tank is correctly installed if you want to get the most out of it, while ensuring it is compliant with the relevant regulations.
In this guide to oil tank installation, we'll look at the things to consider when getting a tank installed, the importance of proper installation, and more.
Things to consider when getting a tank installed
When getting a heating oil tank installed, there are a number of things to consider, including:
What type of tank do I need?
Before installation can begin, you'll need to establish what type of oil tank you need – specifically a single-skinned or bunded tank.
Single-skinned tanks
A single-skinned heating oil tank holds the oil within a single-layered container. Because they are less secure, these tanks must apply to stricter regulations.
Bunded tanks
A bunded oil tank is built with an extra layer, known as a bund layer, which protects the inner tank where the fuel is stored. It is essentially a tank within a tank, helping to contain any potential leaks or spillages.
In some circumstances, you won't have a choice about which type of tank you can install – you will be required to install a bunded tank if any of the following apply:
You're located in Wales, Jersey, Guernsey, or the Isle of Man
The tank has a capacity of over 2,500 litres
The oil tank is being installed within 10 metres of a controlled water source, or within 50 metres of a spring or borehole
The intended position of the tank means an oil leak could result in oil running into an open drain or controlled water source
The vent pipe outlet is not clearly visible from the fill point
The building it is supplying isn't just a single-family home
The tank will be located in a Groundwater Source Protection Zone 1 area or is subject to any other potential hazard.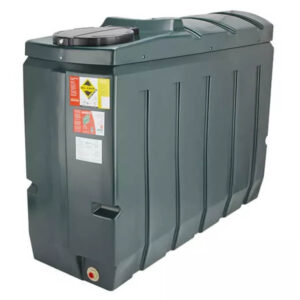 Where should I put the tank?
You must ensure that your heating oil tank is installed in a location that complies with the necessary health and safety regulations. According to OFTEC, the tank should be located:
1.8m away from non-fire rated eaves of a building
1.8m away from any non-fire rated building or structure
1.8m away from doors, windows, or other openings in a fire-rated building or structure
1.8m away from oil-fired appliance flue terminals
760mm away from non-fire rated boundaries, such as wooden fences
600mm away from any trellis, foliage, or screen that is not part of the boundary
If you aren't able to meet these requirements, you will need to install a fire protection barrier with a fire rating of at least 30 minutes, positioned at least 100mm away from the tank.
What base do I need?
When installing a heating oil tank, the base must be:
Strong enough to support both the weight of the tank and its contents
Non-combustible
Constructed from paving stones, stonework, or concrete
Large enough to extend at least 300mm beyond all sides of the tank
What about building regulations?
All heating oil tanks must comply with all Building Regulations. In England and Wales, if the tank is installed by a registered technician, they can self-certify their work without involving the Local Authority Building Control. However, if the
What size of tank will I need?
Heating oil tanks are available in a wide range of sizes. The size of the tank you'll need will depend on a number of factors, including:
The size of the property
How efficient the boiler is
How frequently you use your heating
Your oil usage
Will the size of the tank affect the installation?
The size of your oil tank should not affect the installation, although you will need to ensure there is enough space to install it in line with the regulations outlined above.
The importance of proper installation
It's important that your oil tank is installed by a certified, experienced engineer, who is familiar with the latest regulations surrounding the installation of oil and fuel tanks.
The person installing your heating oil tank must be OFTEC registered, or registered with another, relevant scheme. If your tank is installed by someone who is not registered, you must inform building control so that they can inspect and sign off the work.
Why is it important?
Correct installation is not only important to ensure that your oil tank performs well, for as long as possible, but heating oil tanks must also apply with government regulations. Proper installation will help prevent environmental and fire hazards.
Who to choose?
If you're looking for a registered, qualified and experienced heating oil tank installer, look no further.
Our OFTEC-qualified engineers will install your heating oil tank, ensuring it meets all the necessary regulations and requirements.
To find out more, get in touch with our experts today and receive a quote here.