Discover the range of heating oil delivery options available and the key considerations to think about.
If your home is dependable on heating oil, a reliable and efficient fuel delivery service it is of utmost importance to make sure you never have to go without. Reliable fuel delivery keeps your home warm, which is especially important during winter months when temperatures can drop below freezing.
There are many different types of heating oil delivery, so it's essential you carefully compare them to see which is the best for you and meets your home requirements. Factors to consider include price, reliability, range, and customer service.
This blog will explain the different heating oil delivery service types and the key factors to consider when deciding which is best for you.
Types of heating oil delivery
Automatic delivery
Automatic delivery ensures you are never left without heating oil to heat your home. Automatic oil deliveries are scheduled based on your average oil usage to ensure you always have enough in your tank.
Standard delivery
Standard, or on-demand, delivery means that you only order how much oil you need when you need it. When you are running low, you need to contact your oil supplier to schedule an oil delivery.
What are the benefits of automatic delivery?
There are many benefits of an automated oil delivery, or auto top up, service including convenience and peace of mind. This delivery method ensures that you never run out.
Automatic oil deliveries are calculated by your chosen supplier based on the size of your home, average oil usage, and temperature. Typically, households require more oil during colder months.
The best way to do this is by joining our Priority Club. By joining our Priority Club you receive smart monitor that allows you to monitor your fuel consumption through the app. Here you can set alerts when you are running low. We can monitor your usage and top up up when we see you've hit your alert level.
What are the benefits of on-demand delivery?
On-demand delivery, or will-call delivery, requires you to contact your chosen oil supplier when your tank is ready to be refilled. This requires you to monitor your tank and track your oil usage. With on-demand oil delivery, you are totally in control which can help you to manage a budget.
This delivery method does not require you to enter into a contract, so you are free to shop around for the best prices on the market. Once your oil has been delivered, you will be billed at the current rate. This allows you to be in control of your budget and could save you a significant amount of money. For example, with on-demand delivery, you can fill your tank in preparation for winter when the prices are at a seasonal low and avoid filling up during peak season altogether.
To ensure you do not run out of heating oil, you must remember to check your tank often. It is advised you schedule a delivery when your tank is around three-quarters empty. Using an on-demand delivery service does not guarantee same-day delivery. For this reason, allow at least 48 hours, more during peak periods, for your delivery to arrive.
In any instance where you may have unexpected or urgent oil requirements, you can request an emergency heating oil delivery.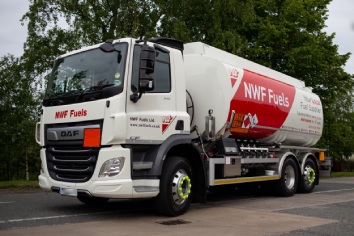 Choosing the right method for you
Assessing your heating oil needs
By assessing and measuring your heating oil needs and requirements, you can determine whether you would benefit most from automatic or on-demand oil delivery. The size of your home and tank will be the biggest factors you need to consider. Smaller tanks and big spaces typically require more frequent oil deliveries.
Budgeting considerations
Understanding and calculating your budget will also help you decide which delivery method is right for you. Each delivery method has a number of advantages, but it is important to understand how each can affect your cash flow and remain within budget.
Communication with the delivery company
Clear communication with your oil supplier and delivery company will ensure you receive the right amount of oil when you need it. To ensure smooth and seamless deliveries, make sure you actively monitor your oil usage, inform your supplier of any changes in oil usage, and allow ample time for the oil to be delivered.
Also explore our common FAQs around ordering heating oil online.
Additional delivery considerations
Delivery minimums and maximums
Oil suppliers and delivery companies often impose delivery minimums to increase efficiency and delivery maximums to maintain health and safety standards. In the UK, the industry standard for minimum deliveries of oil is currently 500 litres.
The maximum oil delivery will be determined by the delivery company in accordance with oil tankers.
Delivery fees and pricing structures
Oil prices fluctuate throughout the year and are determined by global supply and demand. Likewise, delivery fees are often higher during peak periods and seasons.
On-demand oil delivery means you will be billed the current rate for your oil at the time of delivery. This means you could make a significant saving by taking advantage of low season prices; however, poor planning could mean you end up paying peak prices.
Delivery reliability and customer reviews
To ensure you receive reliable and regular oil deliveries, it is important to choose a reputable oil supplier. Trusted suppliers offer reliable service, on-time delivery, and outstanding customer support so you are never left without oil for your home.
When choosing an oil supplier, consider customer care, reviews, experience, and reputation to ensure you select a supplier you can rely on.
There are many different types of heating oil delivery, and each comes with its own unique advantages. It is important to consider your needs and preferences when it comes to choosing a heating oil delivery method to ensure your home is equipped with the heating fuel it needs.
One of the key considerations when deciding on an oil delivery service is choosing your oil supplier. Establishing a good relationship with a trusted heating oil delivery company, like NWF Fuels, ensures clear communication, reliable deliveries, and 100 per cent customer satisfaction every time.
For more information about the different types of heating oil delivery services we offer at NWF Fuels, get in touch today.