Heating oil and kerosene oil tanks are an alternative means of off-mains fuel storage and can come in a wide variety of shapes and sizes to suit a multitude of requirements for domestic, commercial and agricultural users alike.
There are a number of reasons why oil tanks may be used over mains fuel – over one million homes in the UK are not connected to the national gas grid be this by choice or necessity. Heating oil and kerosene oil remain one of the most popular alternatives to gas in the UK, and storing your own oil allows you greater control over your costs for heating fuel.
While there is a range of benefits to using oil, storing it can be a minefield of information. How do you know which storage tank is right for you? Are you up to speed on the risks and regulations associated with oil storage?
We've put together the ultimate guide to oil tanks to help you make the best decision when it comes to your oil storage solution.
Types of oil tanks
There are two main types of oil tanks – steel and plastic. Both materials come with their own advantages and disadvantages depending on their intended use. For example, many prefer the strength and robust nature of steel tanks, whereas others may prefer the non-rusting qualities of plastic.
Here are some of the key pros and cons of each oil tank type to help you better decide which tank may work best for you.
Plastic tanks
Plastic oil tanks are a popular option for those looking for a slightly more affordable, yet robust storage solution.
Advantages of plastic oil tanks
Do not rust like metal tanks
Can have a shelf life of 10-15 years with proper maintenance
Made from polyethene materials which are naturally less prone to corrosion
A wide variety of off-the-shelf models with a range of sizes and capabilities
Lightweight and easy to transport
Simple to install
Reduced risk of contamination
Available fully bunded
Disadvantages of plastic oil tanks
If severely damaged, it must be replaced
Plastic tanks can undergo large amounts of stress when placed outdoors due to weather and temperature
Single-skinned plastic tanks can be at risk from UV exposure which may lead to discolouration, deformity and cracks
Steel tanks
Steel oil tanks are often used to store fuel in bulk and can be produced to more bespoke specifications.
Advantages of steel oil tanks
More durable than plastic tanks
Can come as a standard size or made to measure personal specifications
Less likely to suffer from theft
Sturdy and robust and able to withstand more harsh conditions
Can be repaired or patched
Does not require a solid platform to install
Longer lifespan than plastic with proper maintenance and upkeep
Non-porous materials prevent absorption of the oil
Disadvantages of steel oil tanks
Tend to be a more costly option
Heavier and more difficult to manoeuvre
Prone to suffer more long-term damage from elemental conditions such as heat, UV light and condensation
Corrosion can occur when left unchecked, leading to perforations and oil leakage and environmental damage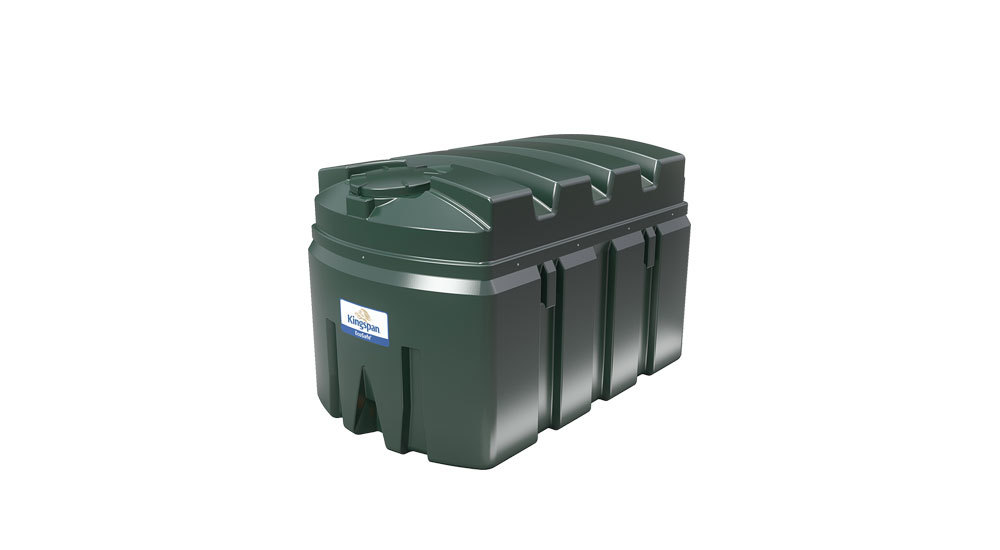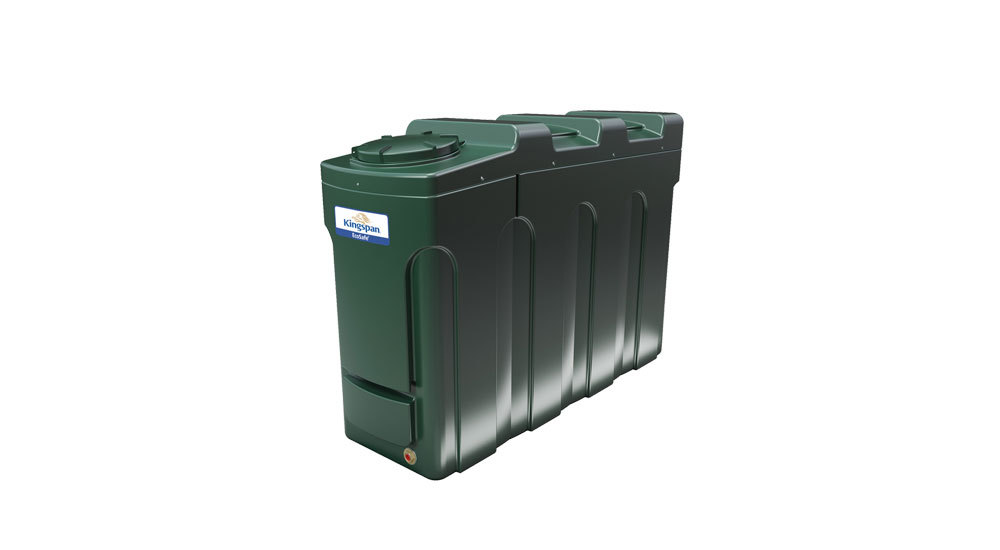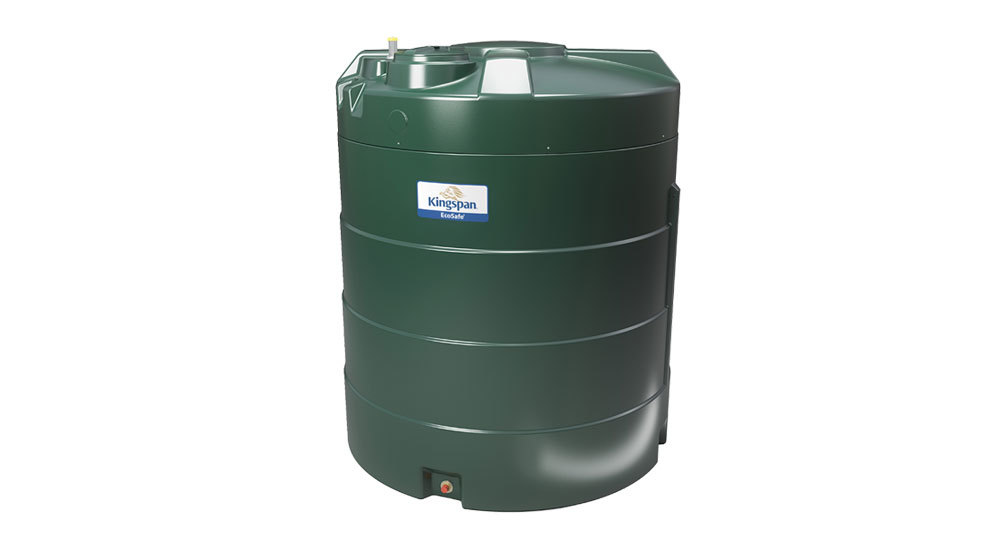 Regulations
Any oil tank installation must fully comply with regional Building Regulations. In England and Wales, OFTEC registered technicians are able to self-certify their own work without the involvement of Local Authority Building Control.
Should you choose a technician that isn't registered with a 'Competent Person scheme, such as OFTEC, then it is required you obtain and Building Control Notice.
For more information on the regulations surrounding oil tank installation, visit our heating oil tank installation guide, the OFTEC website or the government page for UK Oil Tank Storage and Building Regulations.
Volumes
Which size of heating oil tank you require will depend on your intended usage. For domestic purposes, it's generally recommended that tanks have a capacity of at least 500 litres per household bedroom. However, investing in a larger tank than necessary can prove cost-effective in the long term.
Before you decide on an oil tank for domestic use, consider the following:
The size of your property
The number of people living on the property
How much space there is for your oil tank
It can be difficult to predict just how much oil you require, but for a basic idea of heating oil consumption, a generic three-bedroom household using kerosene for heating purposes only, primarily on evenings and weekends will consume around 1,600 litres of oil annually. If also used in cooking, they can expect to use around 1,750 litres annually.
Regulatory Responsibilities
Generally, the key regulatory responsibilities associated with storing heating oil are primarily concerned with environmental risk and fire prevention.
Because of this, there are very specific rules regarding where you can position your oil tank and the types of protections you must ensure are in place.
When your tank is serviced, the attending engineer or technician must notify you of any defects or non-compliances and inform you of ways to rectify any faults.
Some of the more common regularity issues include a tank in poor condition or that is rusting, a tank that is located too close to a shed or a tank that is not bunded and located next to a drain.
Environmental protection is another key element to consider, and it is your direct responsibility as an oil tank owner to ensure oil is not released into the environment and that you have the means to cover the clean-up costs of any spills or consequential damages to the area due to spills.


Siting a tank
There are specific guidelines and regulations to follow when it comes to siting and installing your heating oil tank. Because of this, it is highly recommended that you choose an OFTEC-approved professional to install your tank.
Heating oil tanks must be located at least 10 meters away from inland or coastal water and away from areas in danger of flooding.
They must also be located at ground level, or underground – never above roof level. You should select a site where the tank is not easily visible to prevent theft, yet also accessible for regular maintenance and deliveries and away from areas that may cause damage to the tank such as machinery or bad weather.
Theft prevention
Oil tanks can be a target for theft, so it's vital you take additional steps to both prevent and protect your oil tank from theft.
Preventing fuel theft can include visual deterrents, or choosing a location hidden from view. Motion-detection lighting and CCTV cameras can also be effective deterrents. Some oil tanks include a lockable lid – alternatively our Smart Monitors that are fitted to the tank can alert you when their is a sudden drop in the oil level.
If you're considering purchasing a domestic heating oil tank or have any questions about the process, don't hesitate to get in touch.
Why Choose Us?
Discover the Ultimate Guide to Oil Tanks and safeguard your home with NWF Fuels! Our comprehensive resource covers everything you need to know about oil tanks, from installation to maintenance, ensuring you're well-prepared for any situation. Whether you're a homeowner, landlord, or business owner, this guide is your go-to manual for understanding the ins and outs of oil tank systems.
Don't let confusion or uncertainty surround your oil tank—embrace peace of mind with NWF Fuels. Contact our team on 01829700120 and get a quote here now.